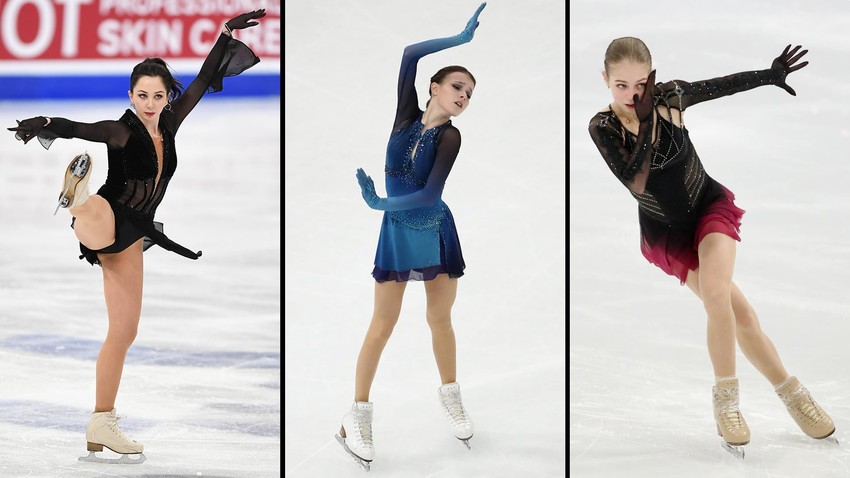 Who are the Russian figure skaters who filled the winner's podium-2021? (PHOTOS + VIDEO)
[ad_1]
For the first time in history, Russian figure skaters have occupied the entire podium of the winners of the 2021 World Figure Skating Championships in Women's Singles in Stockholm. Previously, only American skaters had achieved the same feat, in 1991!
Anna Shcherbakova – Gold medalist
For 17-year-old Anna Shcherbakova, her debut at the 2021 World Figure Skating Championships – which marks the main start to the season – has been the toughest sporting challenge of her life to date. At the end of December last year, she became the champion of Russia for the third time, thus qualifying for Stockholm, but she had to fight not only with the after-effects of the pandemic (irregular training), but also with her own health.
Last fall, Shcherbakova had very acute pneumonia and there were doubts as to whether she would be able to perform her program at all. She stayed off the rink for two months and trained exclusively at home, recording her workouts on camera, editing them and posting them on Instagram. Her coaches and parents wanted her out of the short program at the recent championships as she was breathing very hard after her sessions, but Shcherbakova held on and ended up performing the program in a stunning way.
"Really, I was never forced to do anything by anyone. My parents were like, 'If you don't like it, let's stop now so you can go back to school, or do something else.' Of course, that was when I was younger – now, naturally, they realize that it is very important to me. It is no longer about 'let's stop this' at the first hurdle, "Shcherbakova said in an interview.
Shcherbakova played on the ice at the age of three and a half. Showing exceptional results, she ended up being coached by Eteri Tutberidze. Shcherbakova went on to win silver at the World Junior, European and Grand Prix Final Championships.
This year, the young skater is taking her final exams at school, which only adds to her workload. But, she says her teachers are adjusting and mailing homework and materials. In her spare time, she manages to watch TV shows (her favorite is Sherlock) or read something that is not part of her school curriculum. "Among the books I have enjoyed recently is Roadside Picnic by the Strugatsky brothers." Sports and traveling to tournaments still take up most of his time. But that's what Shcherbakova likes the most.
"I can't imagine myself leading a normal life. Go to school regularly, come back and do your homework every day, then start all over again. I don't see myself like that, I need to be on the move all the time, "she says.
Elizaveta Tuktamysheva – Silver medalist
Tuktamysheva, 24, from the town of Glazov in Udmurtia, spent six long years preparing for the current championship: after winning her career triumph (female world and European champion in 2015), she then missed over two Olympics and World Championships and few thought the skater could make a "big comeback". It was said that Tuktamysheva had passed its prime.
Raniero Corbelletti / Global Look Press
A young Tuktamysheva won the Russian championships in the late 2000s, especially in women's singles. She was called a figure skating child prodigy because she had come to the sport relatively late, at the age of nine, and by the age of 12, she was already performing extremely difficult elements, mastering everything. arsenal of triple jumps. . It is thanks to them that she has carved out a reputation for herself as the most "jumping" figure skater.
"I trained at the old school. I started skating and winning in major league sports very early on. It was in 2009-2010, when there was a decline in Russian women's singles skating and you just had to know how to jump. If you could jump you would win. This is how it has been since I was young. I jumped and won. It was normal. This is how the system worked, "she said.
In 2018-2019, she was arguably the most talked about figure skater in the world, after her haunting performance in a flight attendant costume accompanied by Britney Spears' Toxic in the Grand Prix Series. The accusations that she had "exceeded the limit" then fell on Tuktamysheva, to which she just replied: "I'm just putting the sexy side back in figure skating. "
She made her comeback at a Grand Prix event in Moscow in 2020, which significantly realigned the main contenders for the current season. She proved that her success was not accidental in the Cup of Russia, after which she headed to Stockholm. "I have no idea," she replied when asked how she had managed to get back into shape over so many years. "Everytime [after yet another Olympics], I'm starting from zero, so to speak. <...> When you do not achieve anything for several years, you continue to live a normal, stable life and you have no sense of urgent ambition because you don't believe that you can really do it. But when you make up your mind and start over, you believe you can accomplish anything.
Alexandra Trusova – Bronze Medal
At 16, Trusova was the youngest finalist. She entered the ice at the age of four and in 2016 as a promising junior she also ended up being coached by Eteri Tutberidze.
To date, she has managed to win silver and bronze in the most prestigious competitions, but Trusova is promised greater things – thanks to her technique of extreme purity.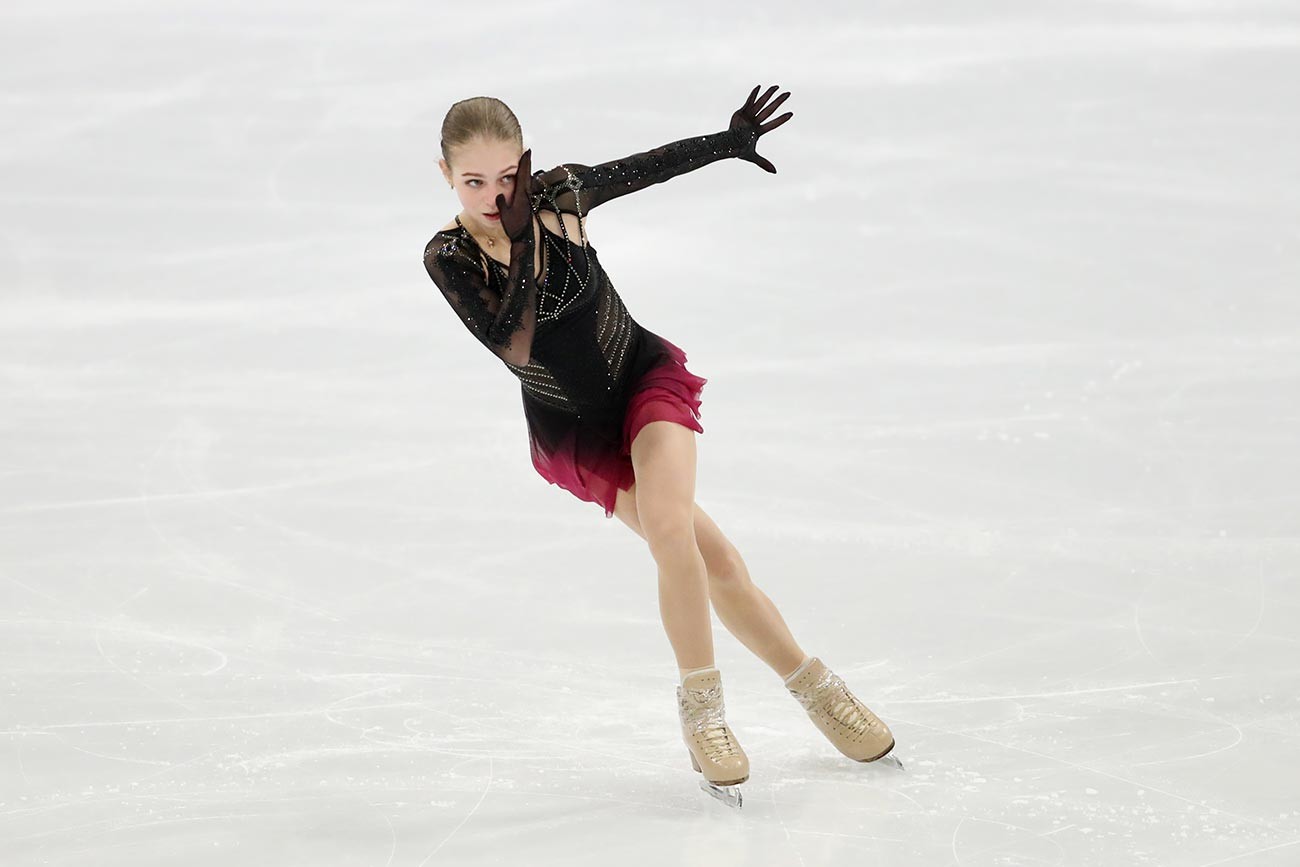 Linnea Rheborg / Getty Images
She is referred to as the main Russian figure skating record holder. Trusova was the first figure skater in history to perform three quads in a single program. At the technical level, she has already beaten all the adult champions. Recently, a video of her demo program was reposted by Hollywood actress Sharon Stone.
The young skater herself admits that only two things in life leave her elated: skating and her dogs (Tina the chihuahua, Lana the poodle and Jack the husky). It has been run by Evgeni Plushenko since 2020 – and lives in a cottage attached to his academy, so as not to waste time traveling.
She describes a typical day as follows: "I get up around 7:30 am, have my breakfast and go to the ice rink. The first thing in the morning is usually a warm-up, or general physical exercises, or choreography. Then it's on the ice. Then a little calm down, after which I go home to have lunch and rest a little. Then I return to the ice rink. Again, this is either warm-ups, general exercise, or dance. Then it's on the ice again, followed by a cool-down. In the evening, I go home and almost every day I have lessons with teachers on Skype. And sometimes I go back to the rink at nine o'clock in the evening to practice the slides.
Trusova mainly has her eye on the Olympics now and says it's hard to get her to show her emotions in the face of failure: "I'm upset by that. [not winning], but I never show it, because people shouldn't have to see it. They came to see me in a good mood and in a good mood.
If you use all or part of the content from Russia Beyond, always provide an active hyperlink to the original content.

[ad_2]