Skating lessons, adult basketball, eSports, Roblox, yoga and winter RAP
Southborough Recreation encourages registration for courses, programs and leagues starting in January. Some of them can even make a great gift for a family member for the holidays!
Details of the offers that cover children to adults can be found below.
Ice skating lessons
All ages 4+
Wednesdays (5.10 p.m. – 6.00 p.m.) Where Saturdays (11:00 a.m. – 11:50 a.m.)
Southborough Recreation is in partnership with the Center Skating Academy of the New England Sports Center located at 121 Donald Lynch Blvd, Marlborough, MA 01752. The Center Skating Academy will offer 2 sessions, 8 weeks each for anyone interested in learning to skate or who wants to improve his skating skills.

No rental, must own skates, beginners are required to wear a helmet.
$ 210 for 8 classes starting January 5/8 (Click here record)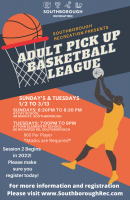 Adult basketball league
18 years and over
Collection games on Sundays (6.30 p.m. – 8.30 p.m. at Fay school) and Tuesdays (7:00 p.m. – 9:00 p.m. at Finn school)
Southborough Recreation invites you to join our adult basketball league 1/2 to 3/13 on Sundays and Tuesdays.

Newcomers are ALWAYS welcome. Attendance does not have to be regular! It's a pickup league – we call our own fouls and keep our own score.

Everyone in the gym should wear a mask regardless of vaccination status as per Fay and Southborough Public Schools policy. If you don't comply, you will be asked to leave.

If you have any questions, please contact the program coordinator [email protected]
$ 60 from January 2 to March 13 (Click here record)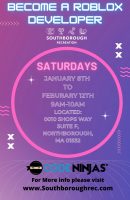 Roblox Code Ninja Developer
8 to 13 years old
Saturday (9 a.m. – 10 a.m.)
In this hands-on, fully guided camp experience, ninjas learn the basics of game creation and creative development in an exciting, user-generated online gaming platform called Roblox! This camp will teach ninjas to plan, design and build their own 3D world to create more than just a game.

Parents are responsible for round-trip transportation to Code Ninjas Located: 10010 Shops Way, Northborough, MA 01532
$ 140 for classes from January 8 to February 12 (Click here record)
BY Session 3
Grades K-8
Variable weekdays, immediately after school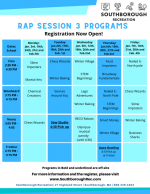 After-school recreation programs start the first week you return from school after vacation. So sign up now! The offers that are still showing as available this morning are:
Costs vary. The session runs from January 3 to February 7. (The days are indicated on the leaflet at the top right – which also includes courses that are no longer offered)
E-Sports Winter Season
From 8 years to adult
Weekdays – Hours vary by game and age group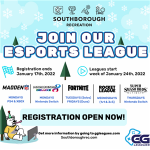 Southborough Rec has a "club" to participate in eSports competitions in the Central League of GG Leagues. Purchasing a season pass allows you to sign up to participate in as many of the options below as you want, although some require specific game platforms as noted:
Fortnite (age groups: 13-18 or 18+) – 1v1 on Tuesday and 2v2 on Friday
Rocket league (age groups: 8-12, 13-18, 18+) 1v1 and 3v3 (beginner and / or advanced) Wednesdays
Madden 21 (requires Playstation 4 or Xbox One) (age groups: 8-12, 13-18, 18+) 1v1 on Monday
MarioKart Deluxe (requires Nintendo Switch) (age groups: 8-12, 13-18, 18+) 1v1 on Monday
Super Smash Bros (requires Nintendo Switch) (age groups: 8-12, 13-18, 18+) 1v1 on Thursdays
Season pass of $ 40 from January 24 to March 31 (Click here to learn more)
Yoga
From 12 years and over to adults
Thursdays (5:30 p.m. – 6:30 p.m. on zoom)
Stretch, de-stress and relax your mind with yoga. This "after work" home course is open to all levels of experience and ability. Yoga sessions include width work, sequences of postures to develop strength and cultivate balance and concentration. The course ends with a guided relaxation. Led by seasoned Kripalu Certified Instructors, Malu Doherty and Mary Starr Green.

Note: Mary and Malu will run the class alternately week by week.
The courses will take place by ZOOM videoconference. Information about the ZOOM course will be emailed prior to the course.
$ 80 from January 6 to February 10 (Click here record)