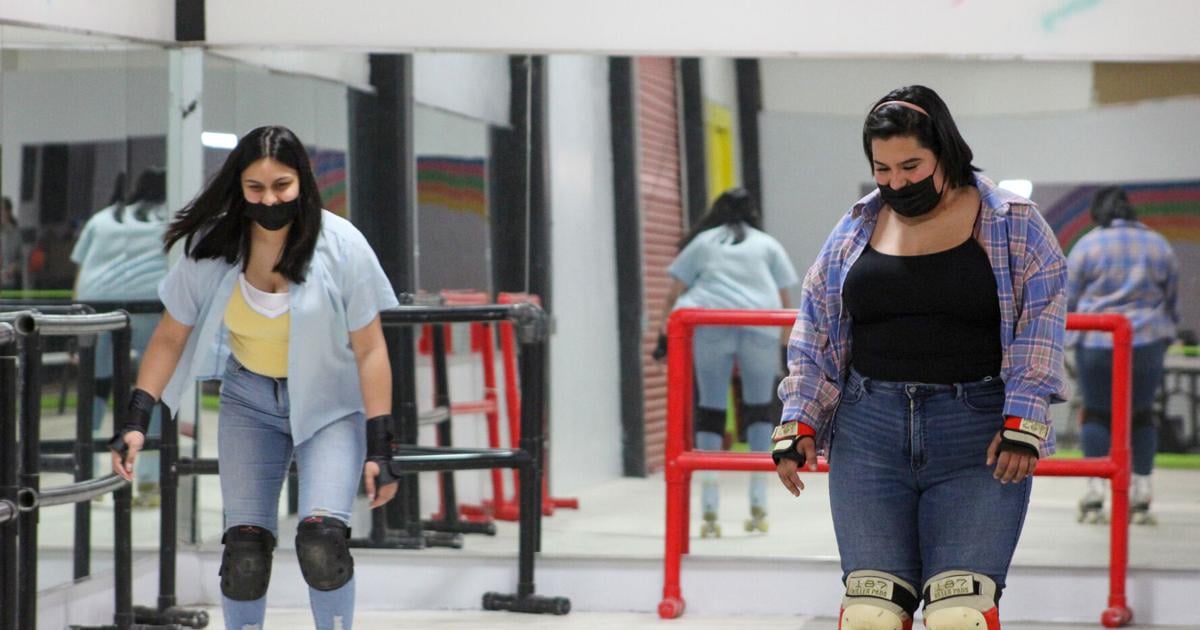 skaters unite for the BSF skating rink evening | A&E
THE CENTER – With its new space at the former Firestorm Gymnastics site, Best STEP Forward (BSF) held its first ice rink night on Thursday, February 3, where locals were invited to strap in and show off their skills.
The large space, smooth surface and high-energy music were perfect for providing a safe recreation area for both inexperienced skaters and seasoned skaters to hone their skills, according to CEO Jacqueline Riddell. She said the idea was born after watching her 13-year-old son learn to ride a bike at the new facility.
Because of her autism, it took her a while to learn to ride a bike, she said, but being in a large, safe area with a smooth surface and no traffic gave her comfort. necessary to relax and discover the joys of cycling.
"He finally learned to ride a bike and it's because of his special needs that he struggles with his motor imbalance. I feel like since we started bringing him here, he was more comfortable. Trying to get to grips with his bike in an enclosed environment, a smooth surface, away from traffic, he didn't have the high stress of cars coming and going," Riddell said. "Within maybe three months of us coming here and just letting them go, he got it. And now he rides a bike. It was an important step for us.
After watching her and the children of her staff ride scooters and bikes around the facility, they thought it would be a fun idea to bring something new to the valley – ice rink night.
"We kind of see it as an opportunity to do something that's not just for kids, but for parents as well…parents matter too. Just because we become parents doesn't mean that the funny bone in our body disappears. I think this is a really unique opportunity for all of us to do something fun, to bring back something that's been around for a while," Riddell said.
Heber resident Michelle Felix joined in the fun and practiced some dance pirouettes on the floor. She said she started roller skating at the start of COVID when she needed a hobby to keep her entertained.
"I actually started skating when COVID started. I was like, 'oh, I need a hobby.' So, I have been skating for two years," said Félix.
After several friends and family members told her about BSF's ice skating party, she thought it would be fun to attend. Prior to the event, she said she was unaware of the services BSF offered to the community.
"I think (Skating Rink Night is) awesome, and I hope they keep going for a long time. I'm sure today is a bit slow because it's the first time, but they shouldn't give up… I think (BSF events are good) to make people more aware of the resources we have for autism…and so we (can) be a more tight-knit community," Felix said.
Riddell said she was very happy to see several new faces at the event, and like most BSF events, she expects attendance at the event to increase over time. Although the soft opening only saw a few guests, she said it was somewhat expected as it was a weeknight and a first-time event.
BSF plans to organize ice rink evenings every Thursday and Saturday. Thursday night skating will be open from 5 p.m. to 8 p.m., while Saturday nights will be open from 5 p.m. to 10 p.m. BSF asks for a $5 donation to participate. BSF does not currently provide skates or safety equipment.
However, Riddell said she hopes to eventually raise enough money to offer skate rentals. Although she hopes to achieve this one day, BSF's current priority is to raise funds for a new AC unit. She said the current AC unit isn't expected to last all summer, and a new one is estimated to be around $10,000. BSF has raised just under $2,000 so far.
Stay up to date with BSF's Ice Skating Night schedule and other events by visiting their Facebook page.