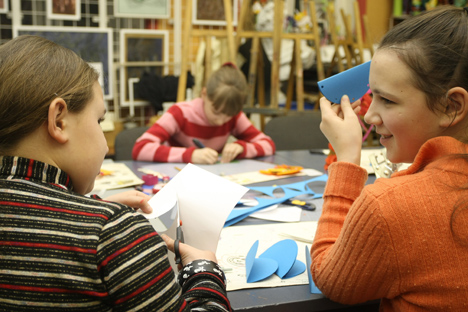 Singing lessons ? Figure skating lessons? Join the club!
By June 2014, the new development plans for complementary education should be fully developed. Source: ITAR-TASS
From figure skating and ice hockey lessons to art clubs and dance groups, Russia offers a wide variety of options when it comes to extracurricular activities for children, with a multitude private organizations springing up to offer a costlier alternative to established state corporations.
The Russian state system of supplementary education for children is comprehensive, with its foundations already laid in Soviet times. Today, the choice of pastimes suitable for everyone is even greater, thanks to the proliferation of private clubs and societies, which means that parents are spoiled for choice when it comes to find activities to broaden their children's horizons.
Public and private service
The Soviet period left Russia with a network of children's art centers, formerly known as Pioneer Centers. It is a state-funded organization and there are usually centers in every district of every Russian city. Here, cultural activities, sports, ecological activities and civic patriotism clubs take place under one roof. Children can enjoy singing, drawing, dancing, music, environmental and natural studies, history, sewing, knitting, crafting or playing chess . Throughout the country, there are also dozens of state-run music and art schools and sports clubs.
The activities themselves are free or available for a small monthly fee (200-500 rubles ($6-$14), but you need to buy the necessary materials – paints, brushes and paper for art lessons, for example. However , all the child can find what he wants in the nearest cultural center – the choice offered is different depending on the location – and not all parents are able to drive their child to another part of town. better because of the low salary teachers receive.
For these reasons, wealthy parents often choose to send their child to a private provider. This allows them to make a wiser choice of teacher and pick a convenient location, but they have to pay for the lessons.
How much does it cost?
Olga's son is five years old, and he has already been taking figure skating lessons for six months. "My neighbor was sending her son for skating lessons, so I sent mine too to keep him company. At least someone in the family will be able to skate well," she says. Classes are held three times a week, including two skating classes, a general fitness class in a gym, and a choreography class. The cost of these courses is 6,000 rubles per month (about $170) plus a sports kit and skates.
That's about the amount you need to spend on your child if they want to learn to sail. Yachting coach Irakly explains that training an athlete in any sport costs parents a small fortune, as they not only have to pay for regular sessions and sports equipment, but also travel for competitions . "Young athletes cannot develop without a decent competitive environment; coaches and parents have to spend a lot of money," he says.
Of course, not all parents take a systematic approach to this type of training. Often the main thing is not to develop a special skill or talent in a child, but simply to occupy him with something or other. "I often receive children who, at 11 or 12, have already done a bit of swimming, soccer, athletics, hockey and diving," says Irakly.
Taking hockey lessons costs an average of 3,500 to 5,000 rubles a month ($100 to $140), with practice twice a week. Outside the capital, prices are usually lower, but will not be lower than 1,500-2,000 rubles per month (about $50).
You can send your child to ballroom dancing lessons for 2000-4000 rubles a month ($60-120), but you need to remember that this hobby requires parents to buy expensive costumes for performances, outfits costing between $200 and $200.
Individual drawing and painting lessons cost 500 rubles per hour ($14) and group lessons from 2,000 to 5,000 rubles per month ($40-130) depending on the level of education. Musical instruments are slightly cheaper at 300 rubles ($90).
Change is on the way
The Russian Ministry of Education and Science is now convinced that the system of supplementary education established in Soviet times needs to be modernized, but that whatever changes are made, it must remain free .
"The most important achievement of our education system is its free supplementary education," Education Minister Dmitry Livanov said. "We are one of the few countries in the world where there is free complementary education for every citizen. We plan not only to maintain all of these social guarantees, but to expand them.
"Traditionally, there was a strong system of further education in the USSR, but over the past 20 years facilities have declined significantly. It is essential that we move to a new level in the development of the system of further training and education for children in our country," Livanov said. By June 2014, the new development plans for complementary education should be fully developed.
The ministry's plans include the establishment of innovation and nanotechnology study clubs and the development of educational tourism. Children's education should be supplemented not only by cultural and sports organizations (such as museums, art studios and sports clubs) but also by representatives of science and business.
The ministry also intends to give educational institutions the opportunity to offer jobs to specialists who are not trained teachers, especially technical specialists or actors.
All rights reserved by Rossiyskaya Gazeta.