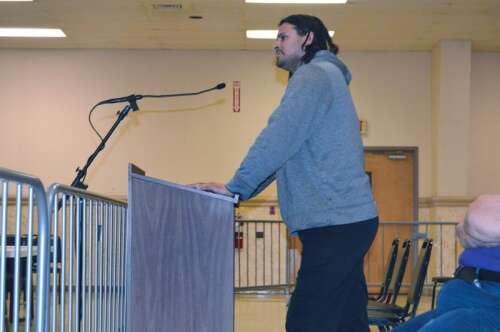 Residents speak out for the rink – Times News Online
Supporters flocked to Jim Thorpe's Memorial Hall on Thursday night to ask the city's borough council to reconsider a plan to move the police department to the ground floor of the building and allow the space to return his former use of indoor roller skating. rink.
"There is a group of business owners and residents who are interested in forming a lease option proposal that would allow the rink to be operated as a separate entity from the borough," said resident Amy. Kubishin.
Kubishin and her husband Ryan have been driving the movement to reopen the rink in the borough-owned building.
"We want to come up with a plan that works for all of us," she said. "We recognize that the municipal offices and the police department need to grow, but the community has spoken loudly and they don't feel like they've had a choice."
Currently, borough office staff and the Jim Thorpe Police Department share a 3,332 square foot building built in 2008 adjacent to Memorial Hall, a large two-story community center owned by the borough off East Tenth Street.
After a 2016 feasibility study noted concerns about security and available space given the building's current layout, the borough sought to relocate office staff and police.
One of the study's recommendations was that the borough renovate Memorial Hall, use a third of the top floor for office staff while keeping the rest of the space as a community center, and move its police department to the ground floor, where the roller skating rink was once located.
The rink has not been active for at least a decade and requires updates such as HVAC work and mold remediation.
"I understand that when the rink closed there was no one to run it and attendance was dwindling, but now you have people who are motivated and want to take the time to create a plan," said resident Brian Evans. of West Broadway. "I've spoken to people in the community and the support for the rink is overwhelming."
Council President Greg Strubinger said Thursday that running a business such as a roller rink might be better suited to a private entity and not a borough government.
"It behooves the borough to be careful with the limited funds we have," Strubinger said. "Engaging in a business is risky. Does the borough have the capacity to take this risk? It is questionable to do this with taxpayers' money.
Thursday's meeting drew rink supporters from the borough and surrounding areas such as Albrightsville, Summit Hill, Lehighton, McAdoo, Penn Forest Township and Nesquehoning.
According to Summit Hill's Franklin Klock, roller skating can burn up to 600 calories per hour. Klock provided the board with other skating facts, including how he works muscle groups such as the glutes, quads, abs, calves and even arms.
"Thirty minutes of roller skating," Klock said, produces an aerobic heart rate of at least 148 beats per minute.
For others, like Jim Thorpe's Chuck Durning, the rink brings back fond memories.
"I spent time at the rink when I was a teenager and it broke my heart to find out it's no longer in use," said Durning, a borough resident. "I would love to see it active again because it's something my own children could use. An ice rink has year-round entertainment and it's a safe haven for kids, teens and even adults who want to have a good time without going to a bar.
McKenzie Snyder, a senior from Jim Thorpe Area High School, recalled skating nights she attended at the rink.
"These are some of my favorite memories and I hope it's reopened so more kids can come skate like me," Snyder said.
Heather Moore, a former student of Jim Thorpe High School, said her babysitting duties usually require her to travel to Allentown or Scranton for indoor entertainment options, something the reopening the rink would help.
"If we bring skating back, a lot of our organizations will be hosting fundraisers here again," Moore said.
A pre-COVID-19 estimate for the work the borough is proposing for the Memorial Hall project was $2.25 million, but that figure rose to $3.72 million in May 2021.
Borough expects $2.5 million in appropriations funds from the U.S. House of Representatives with the help of Congressman Dan Meuser and $1.465 million in appropriations funds from the U.S. Senate with the help of Senator Bob Casey.
"Of the work that needs to be done, about $800,000 is repairs to Memorial Hall alone," Councilman Mike Yeastedt said. "If we were to back down and consider an ice rink, we would lose this grant and we had to figure out how to pay for these repairs to the buildings."
The council did not respond to the ice rink request on Thursday evening.
"I think there's a lot of emotion here tonight, so maybe we should take a break and come back to it at a council meeting," Councilwoman Jessica Crowley said near the end of the week. meeting of about two hours. "We've heard from many community members here tonight who are overwhelmingly supportive of the rink. If we can't withdraw the grant, is there a compromise? I think we've certainly heard that something needs to be done about indoor activities for kids. Hopefully that's something the board would consider.
Jim Thorpe's Chuck Durning voices support for a roller rink in the basement of Memorial Hall on Thursday night. JARRAD HEDES/TIMES NEWS