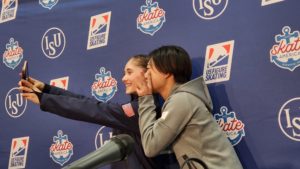 Norwood Notes – Inline Figure Skaters
Story and photos by Gina Capellazziadministrator of the FSO team website
Beyond the headlines of the quadruple Axel and the stories of the champions, Skate America 2022 marked the debut of the Grand Prix for many skaters. There were other special stories that came out of the event, from meeting other competitors to competing on home soil.
Gina Capellazzi of Figure Skaters Online spoke with some of these skaters who have had other accomplishments and victories, beyond the podium. She highlights them in what she came up with – "Norwood Notes".
Meeting with Kaori Sakamoto
While many people inside the Skating Club of Boston were hoping to meet or take a photo with Kaori Sakamoto, one person in particular was hoping to take a selfie with the world champion. This person – Isabeau Levito.
At the short program press conference, the 15-year-old junior world champion was asked if there was anyone at Skate America she was looking forward to meeting, and Levito replied, very nervously, " Kaori!"
"She's so strong, so powerful," she added, as Sakamoto sat down next to her, smiling. "I feel she's so free on the ice, so I was really excited to see her here. Every time I was in the locker room, I was like, 'Should I go ask her for a selfie with her?' Yeah, I'm definitely very excited to see her here. It's just cool.
After the press conference, Levito got his selfie with Sakamoto. The United States team Amber Glenn gave Levito his cell phone to take the photo as Levito's photo was not readily available at the time.
Receive homework late
Team USA's pair team Valentina Plazas and Maximilian Fernandez have competed extensively this season – US Classic, John Nicks Pairs Challenge, Finlandia Trophy, as well as national qualifying events. After Skate America, they will add another competition to their already busy fall schedule.
Plazas and Fernandez, who were the chosen hosts to compete at Skate America, learned just before leaving for Norwood that they would be competing at Skate Canada next week. The team, which is making its senior Grand Prix debut, now has two Grand Prix assignments.
"Before we got on our plane here, we found out we had Skate Canada," Plazas said.
"We've competed so much (already) so it's great to have a second Grand Prix," added Fernandez. "We fought for this position. It's just an honor to have a second Grand Prix.
Like Plazas and Fernandez, who received a late Grand Prix assignment, Team USA's Maria Mokhova and Ivan Mokhov were added to Skate America's roster on October 17 to replace Anastasiia Smirnova and Danil Siianytsia, and also received a second Grand Prix, Grand Prix de France on 20 October. Team USA's Dinh Tran was also added to the Skate America roster for Eric Sjoberg on October 17th. Canadians Marie-Jade Lauriault and Romain Le Gac also found out after Skate America that they would be heading to Skate America. Canada will replace Miku Makita and Tyler Gunara.
Crowd Support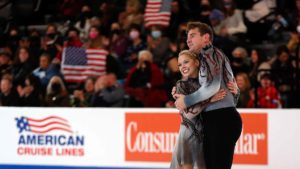 Although the venue was smaller, the athletes were very grateful to perform in front of a sold-out crowd at the Skating Club in Boston.
"I really liked the crowd cheering us on," said Germany's Letizia Roscher.
"It was so nice to skate in front of such a large audience again," noted Team USA's Liam Kapeikis.
"It's wonderful to be at Skate America, we don't take the opportunity to compete in front of a home crowd for granted, it doesn't happen that often," said Evan Bates of the USA.
"It was a fun crowd. It was really special to be in front of an American crowd, but we really felt the support from everyone," added Kaitlin Hawayek of Team USA.
"The audience was great. They were so crazy and loud and supportive, it's really touching," said Gracie Gold from the USA. "Five stars for the crowd."
Anniversary at Skate America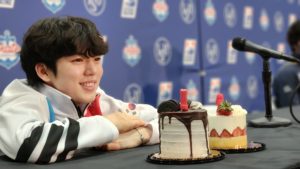 Korean Junhwan Cha had a lot to celebrate at Skate America. He won his fifth bronze medal of his career in the Grand Prix series and also celebrated his 21st birthday on October 21, the day of the men's short program.
After the men's short program press conference, Cha was surprised by his coach, Brian Orser, and his friend and fellow trainer Jason Brown with two cakes. Media in attendance joined Orser and Brown in singing happy birthday.
Cha seemed quite surprised at the gesture!
"I really wasn't trying to think about my birthday. I just wanted to focus (on the competition)," Cha said, noting that his teammates wished him a happy birthday in training. noticed it was my birthday, so it was a great experience for me to compete on my birthday.
Compete on home ice
It's one thing to compete in front of your home country or to compete on a rink where you've competed before. But it's another thing to compete in a Grand Prix event at the rink where you train every day. This was the case of Italian Daniel Grassl, who recently moved to the United States to train with Alexei Letov and Olga Ganicheva at the Skating Club in Boston.
"It was great to compete here on home soil," he said, noting that he has been training at Norwood for two months now. "It's very difficult because I miss my family and everything, but when I went on the ice, I felt confident.
Hooked on the media
Jason Brown has participated in five Skate America events. He was at Norwood this weekend – not to compete – but as a member of the media.
Brown served as the social media host for Team USA. He could be found talking to Team USA athletes after their performances and conducting video interviews for social media. He also participated in press conferences, asking the skaters questions.
Some of his questions included:
"Alexa and Brandon, 'Stranger Things' themed short program, what song saves you from the curse of Vecna?'
"Alexa, I know you are an avid reader. The last Olympic cycle is coming to an end. As we begin this next chapter, what would your title be?"
brown said Inline figure skaters and Ice-Dance.com that he loved being on the other side. Follow Team USA on social media to see their video reports!