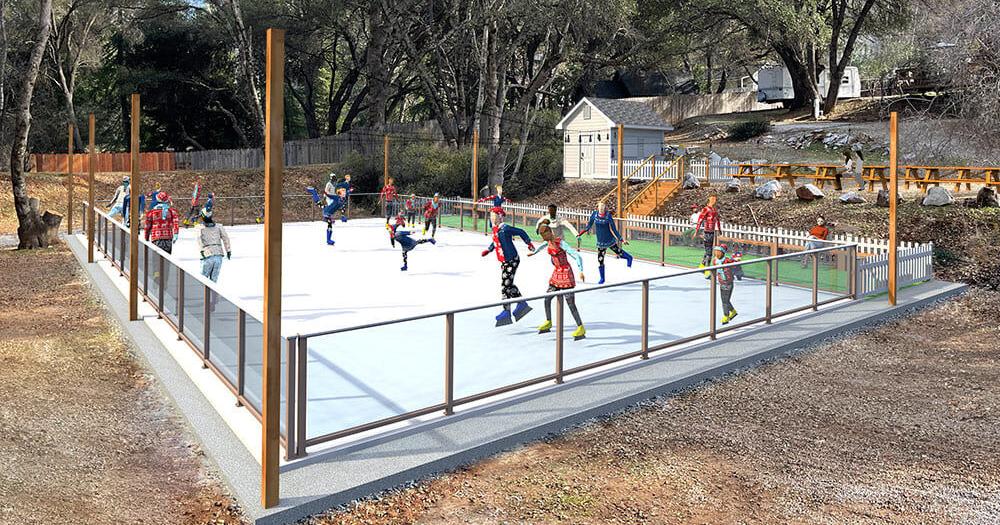 Columbia Chamber of Commerce seeks $50,000 for synthetic ice rink | News
The Columbia Chamber of Commerce is touting plans for a new synthetic ice rink that can accommodate up to 200 visitors a day on private property in Marble Quarry RV Park near Columbia State Historic Park.
Four neighbors who live near the existing RV park at 11551 Yankee Hill Road came to a meeting Jan. 19 and asked worried questions about the plan, Rosanna Sharps, chamber president and board chair, said Friday. Administration on the same day she and the chamber publicly thanked donors who have already donated $82,000 for the rink.
Sharps says the chamber is also seeking an additional $50,000 in donations to pay for a cement foundation for the rink, fencing, benches, light poles and an outhouse for ticketing and skate rentals.
Sharps also said she hopes to secure the necessary funding to open the rink as early as March, but no later than Martin Luther King Jr. Day weekend in January 2023. That's because the new rink is a center of the chamber plan to host Columbia's first Winterfest, another plan that could draw an estimated 6,755 visitors per day to Columbia State Historic Park and the rest of the city over several winter weekends.
Sharps and the chamber have been working on plans for the rink and the first Columbia Winterfest over the past year, and the plans have won praise from many people, including donors.
Proponents of the rink and Winterfest plans include Jaron Brandon, the county supervisor whose District Columbia includes.
"We're a family county," Brandon said Friday. "When a bold idea for kids, for more business visitors, pops up – you check it's good, then ask, 'How can I help? Ideas and vision are valuable cargo to be encouraged, not deterred.
The ice rink and Winterfest plans have also been criticized by some people, including a member of the Columbia Chamber of Commerce.
Chamber member and former Columbia Area Advisory Board member Donn Marinovich said he's against the rink because it hasn't gone through any type of approval process. He's also against Winterfest because he said the town doesn't have room for the extra visitors it should attract, and he thinks it's not in line with the state's overall plan for winterfest. Columbia State Historic Park.
Danielle Gerhart, the Columbia-based acting superintendent for state parks in the Central Valley District that includes Columbia State Historic Park, could not be reached for comment Friday. Joel Memmer, Superintendent of State Parks III for the Central Valley District, responded for Gerhart Friday afternoon and said the park is reviewing the special event permit submitted by the chamber for the proposed Winterfest next year. .
"We are working closely with the Columbia Chamber of Commerce and hope to finalize the permit soon," he said.
Richard Haratani, current chairman of the Columbia Area Advisory Council and a board member of the Columbia Chamber and Friends of Columbia State Historic Park, said Friday he was neutral on the chamber's plans.
"It seems well-intentioned, and time will tell if it serves the greater community as hoped," he said.
The board intends to hold a meeting at 5:30 p.m. on Monday, Feb. 7 at Faith Hall, Church of the 49ers, 11155 Jackson St. in Columbia, and the rink will be on the agenda for public comment, Haratani said. .
Haratani added that he hopes the plans for the rink and Winterfest will help illustrate the need to revive the Columbia Planning Commission, which he said "was scrapped by the county half a dozen years ago. ".
Sharps talked about her and the room plans Friday at Marble Quarry RV Park. She acknowledged that some people were concerned about the plans, but she said a lot of people loved the plans. She also pointed out that the proposed rink site had been inspected by the Tuolumne County Community Development Director and the county fire marshal.
The RV park has been zoned recreational and commercial for 40 years, and commercial uses date back more than 50 years, when the same RV park was a KOA campground in the 1960s, Sharps said.
Additionally, the RV park is privately owned, so plans for the rink do not need to go through public hearings, Sharps said.
"The primary purpose of the skate park is to generate revenue for chamber events, primarily Winterfest," Sharps said. "Bringing trade to Colombia in winter, when tourism slows down."
When asked when Sharps hopes construction on the rink will begin and when it will open, she said it would depend on how quickly the chamber gets the remaining $50,000.
"We would like to open in March," she said. "No later than January 2023."
The outdoor synthetic rink is expected to measure 66 feet by 37 feet, or 2,442 square feet.
Sharps said she expects the ice rink, an outbuilding and 25 parking spaces to fit into a part of the RV park that once housed tent campsites but is no longer in use. . The maximum number of skaters allowed on the rink at one time will not exceed 40.
Figure skates would be banned because their teeth can damage the synthetic ice surface, but hockey skates would be allowed, Sharps said, noting that the rink will rent skates instead of selling them.
The rink is made by the Xtraice company and would take three days or less to install, Sharps said. A website for Xtraice says its synthetic ice is made of polyethylene, the most common type of plastic used today, which has a high molecular density.
Asked about plans for Columbia's first Winterfest, Sharps said it's a proposal for ticketed events at various locations in Columbia State Historic Park, featuring artisans and guides and entertainment. free streets. She hopes Winterfest events can be held over multiple weekends, from three to six different weekends.
Normal weekends at Columbia State Historic Park draw a few thousand visitors, while special event attendance ranges from 6,000 to 10,000 a day, according to chamber promotional materials for the rink and Winterfest. .
The state park sees one million visitors a year, mostly in the spring, summer and fall, promotional materials show. Winter business is generally minimal "due to unpredictable weather and lack of special events." The proposed plan for Winterfest would draw 20,000 visitors over three to four weekends by year three.
"Imagine attending the Celtic Fair for six weeks," the promotional material read. "We expect Columbia's Winterfest to attract a lot more!"
Sharps thanked sponsors, including Chicken Ranch Casino, Blue Mountain Minerals and Sonora Area Foundation, who collectively contributed $82,000.
Lloyd Mathiesen, tribal chairman of the Chicken Ranch Tribe of Me-Wuk Indians, said the tribe helped plan the rink because it is "a way for families to get together outdoors, as we seen in the skating rinks of the east".
John T. Salkowski, president and chief financial officer of Blue Mountain Minerals, said that when the Columbia Chamber of Commerce approached him about "this exciting project, we immediately knew we wanted to help make it a reality. It's not often that innovative projects like this come along that combine good, wholesome family entertainment for the local community while helping to attract outside visitors to Colombia, which in turn helps support the local economy. .
Blue Mountain Minerals is a neighbor of downtown Columbia, with many employees in and around town who will appreciate the new rink, Salkowski said.
Darrell Slocum, CEO of the Sonora Area Foundation, said the chamber applied to a recent innovation challenge "and came up with several ideas, including the skate park and also a festival to be held in the park. We found their innovative and potentially beneficial ideas for our region as a tourist attraction and to stimulate economic activity.We sent them $5,000 to use at their discretion.