Beijing Games open with several figure skaters carrying national flags – Figure Skaters Online
By Scott Mammoser, FSO Team Contributing Writer
Header photo by Melanie Heaney
BEIJING, CHINA — For many athletes, carrying their country's flag at the opening ceremony of the Olympic Games is the ultimate honour. At the Bird's Nest in Beijing, China, on Feb. 4, figure skating competitors represented 11 of the national marching contingents.
Loena Hendrickx (Belgium), Alexandra Nazarova (Ukraine), Evgeni Krasnopolski (Israel), Paulina Ramanauskaite and Deividas Kizala (Lithuania), Vladimir Litvintsev (Azerbaijan), Lindsay van Zundert (Netherlands), Morisi Kvitelashvili (Georgia), Michal Brezina (Czech Republic), Donovan Carrillo (Mexico), Brendan Kerry (Australia) and Tina Garabedian (Armenia) all proudly waved their national flags on the cold Beijing evening.
"It's definitely an honor to be chosen," said Garabedian, who competes in ice dancing with partner Simon Proulx Senecal. "Just being at the Olympics representing Armenia is a huge thing, and the fact that I can carry the flag is an added bonus. It just adds to the experience of having that too.
Garabedian, 24, was born in Laval, Quebec to Armenian parents and first visited the Caucasus nation as a teenager. She has been invited back to compete in her national figure skating championships, except for the last two years affected by the pandemic.
"It's a beautiful country with a lot to offer," she added of Armenia. "I also went to Armenian school when I was younger, so seeing everything we learned was very emotional the first time around."
Garabedian and Proulx Senecal qualified for the Beijing Games after placing fourth in the Nebelhorn Trophy. They train in Montreal under the tutelage of Marie-France Dubreuil and Patrice Lauzon.
"It's really motivating to skate with the best skaters because we learn every day and seeing what they have to offer helps us become better skaters. It's really exciting because there are 11 teams here from the IAM (Montreal Ice Academy). I think that makes it a really fun environment to be around.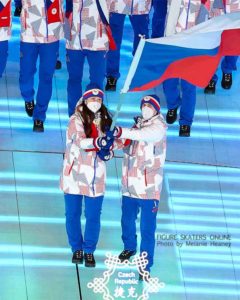 Brezina, 31, is competing in her fourth Olympics and is looking to improve on a 16and-place finish in PyeongChang after placing 10and in Vancouver and Sochi.
"It's great to come into the stadium as a flag bearer," Brezina said via email. "I was always behind the flag, but this time I could carry it when our whole team came in for the parade. It was great, because here we have the greatest Czech Olympic team ever for the Winter Games.
Additionally, Hendrickx told the media that she was "honoured" and "proud" to carry the Belgian flag at her second Olympic Games. She was informed by telephone two weeks before her departure.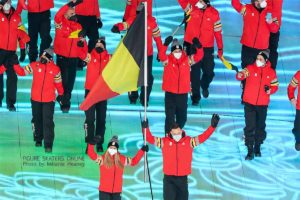 "I was really excited about the phone call," she said. "It's amazing, it's crazy. I'm so honoured. I'm just so proud.
Hendrickx is Belgium's four-time national champion and finished 16th at the 2018 Olympics. She is coached by her brother, Jorik, who finished 16th at the Olympics in 2014 and 14th in 2018.
Twelve is the highest number of figure skaters selected to carry their country's flag at the Olympic ceremony in recent years. In 2006, 10 figure skaters carried their nation's flag. In 2010 and 2014 there were five and in 2018 there were four, including Kvitelashvili, who also carried the Georgian flag at the opening ceremony of PyeongChang.
It should also be noted that Shen Xue, 2010 Olympic champion in a relationship with Zhao Hongbo, was one of the six Olympic flag bearers at the National Stadium.
Historically, Scott Hamilton is the only American figure skater to have carried the flag at the opening or closing ceremonies, which he did in Lake Placid in 1980, four years before winning gold in Sarajevo. Canada has had figure skaters six times, most recently Tessa Virtue and Scott Moir in PyeongChang.