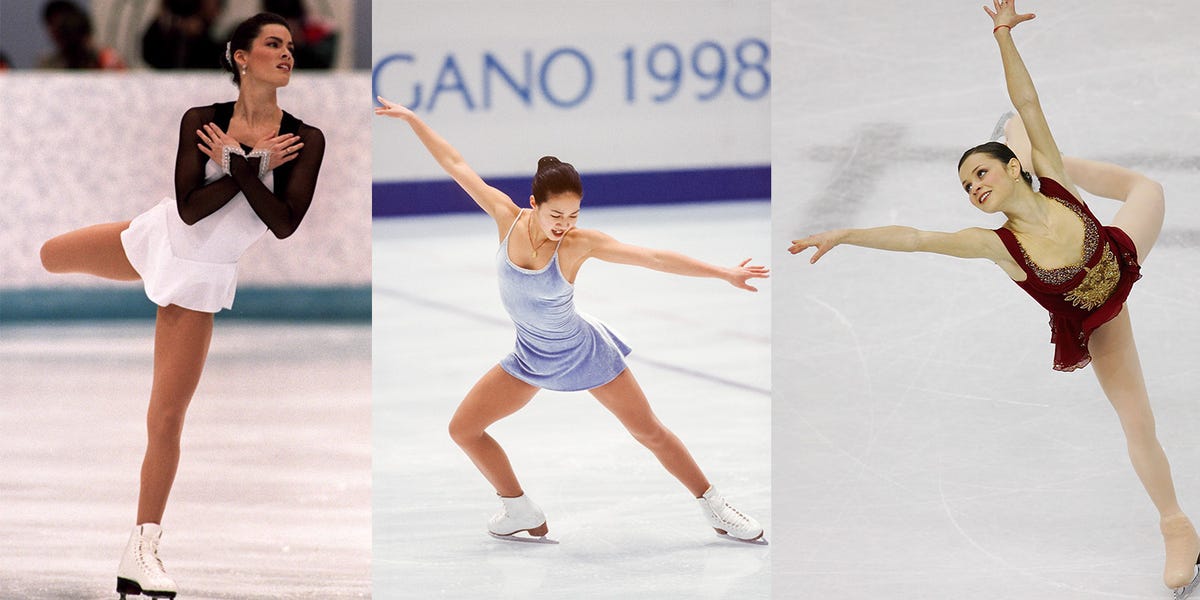 33 Best Ice Skating Outfits
The Beijing Winter Olympics are in full swing, and let's face it, the global event brings out the sports fan in everyone. So even if you don't follow competitive figure skating, you'll probably tune in at least once over the next few weeks. And when you do, you'll definitely notice the sport offers the rare combination of athleticism and fashion sensibility.
From some of the first modern Olympics to this week's events in Beijing, here are the most iconic figure skating outfits to ever grace the ice.
1 out of 33
1936: Sonja Henie
Norwegian figure skater Sonja Henie wore a playful black long-sleeved dress and beret for her routine at the Olympics in Garmisch-Partenkirchen, Germany, for which she won her third gold medal.
2 out of 33
1948: Gretchen Merrill
At the St. Moritz Winter Olympics, American skater Gretchen Merrill opted for an all-white ensemble with a beaded cap.
3 out of 33
1956: Tenley Albright
Gold medalist at the 1956 Olympics in Cortina, Italy, Tenley Albright wore a pleated skirt dress.
4 out of 33
1968: Peggy Fleming
The year American figure skater Peggy Fleming won an Olympic gold medal in Grenoble, she donned a chartreuse dress with a high neck and white beaded trim.
5 out of 33
1972: Beatrix Schuba
Beatrix Schuba represented Austria in a bejeweled blazer-like design when she won an Olympic gold medal in Sapporo, Japan.
6 out of 33
1976: Dorothée Hamill
Early in her career, Dorothy Hamill stood out from her competitors with the sober and simple designs she chose for her skating costumes. Hamill's red dress and swept-back haircut instantly became iconic after winning an Olympic silver medal in Innsbruck, Austria.
7 out of 33
1984: Katarina Witt
East German figure skater Katarina Witt wore a Bavarian-themed dress with puff sleeves and a dazzling tiara for her routine at the Sarajevo Winter Olympics.
8 out of 33
1985: Debi Thomas
Debi Thomas dazzled in an embellished bubblegum pink outfit as she placed second at the US Figure Skating Championship.
9 out of 33
1988: Debi Thomas
American skater and bronze medalist Debi Thomas decided to forgo a dress at the Calgary Olympics, opting instead to perform her routine in an embellished jumpsuit instead.
ten out of 33
1988: Katarina Witt
In addition to winning a gold medal for East Germany at the Calgary Olympics, Katarina Witt caused quite the uproar over the cropped hemline of her blue feathered dress. Shortly after the games ended, Figure Skating implemented a dress code and dubbed it "The Katarina Rule".
12 out of 33
1992: Kristi Yamaguchi
Kristi Yamaguchi opted for a gold brocade long-sleeved dress for the Olympics in Albertville, France, the year she won the gold medal.
13 out of 33
1992: Nancy Kerrigan
Nancy Kerrigan looked chic in a simple sheer, ruched white dress as she took to the podium for her bronze medal at the 1992 Olympics in Albertville, France.
14 out of 33
1994: Tonya Harding
Tonya Harding's red dress at the Lillehammer Olympics became infamous when the figure skater was controversially allowed to redo her routine due to a broken shoelace.
15 out of 33
1994: Nancy Kerrigan
At the Lillehammer Olympics, Nancy Kerrigan wore an elegant black and white dress with sheer sleeves that designer Vera Wang said "made her tougher."
16 out of 33
1998: Tara Lipinsky
The crowd at the Nagano Olympics cheered on the 15-year-old as she won the gold medal in an elegant and sweet blue dress.
17 out of 33
1998: Michelle Kwan
Michelle Kwan opted for an understated lilac velvet spaghetti strap dress (which was very trendy at the time) when she won silver at the 1998 Winter Olympics, a stark contrast to the ruffles and outfits dazzling of its competitive counterparts.
18 out of 33
1998: Surya Bonaly
While competing in her third and final Olympics, Surya Bonaly took to the ice in a blue and gold beaded fringe dress.
19 out of 33
2002: Sacha Cohen
Sasha Cohen wowed the crowd at the Salt Lake City Olympics in a red dress with a bright yellow and orange hem.
20 out of 33
2002: Sarah Hughes
Sarah Hughes wore a lavender dress with a beaded bodice to the Salt Lake City Olympics, where she won a gold medal in the women's free routine.
21 out of 33
2002: Irina Slutskaya
Russian skater Irina Slutskaya's embellished black dress stood out with its jagged neckline during the Salt Lake City Olympics.
22 out of 33
2005: Michelle Kwan
Competing for her 9th consecutive United States Championship title, Michelle Kwan wore a one-shoulder gold sequin dress.
23 out of 33
2006: Shizuka Arakawa
The figure skater won Japan's first gold medal in the sport at the Olympics in Turin, Italy. For her routine, Shizuka Arakawa wore a unique two-tone blue dress with sheer sleeves and a low neckline.
24 out of 33
2006: Sacha Cohen
Cohen refers to the red velvet and gold embroidered dress in which she won her silver medal at the Turin Olympics as her "Romeo and Juliet dress".
25 out of 33
2010: Johnny Weir
Johnny Weir chose an ornate V-neck jumpsuit with white gloves for his routine at the Vancouver Olympics.
26 out of 33
2014: Gracie Gold
Gracie Gold represented the United States at the Sochi Olympics in a theatrical red velvet dress with an ornate necklace and rosebud detailing.
27 out of 33
2014: Adelina Sotnikova
2014 Olympics gold medalist Adelina Sotnikova modeled bold, modern outfits that varied from the traditional figure skating costume, like this cut-out red dress.
28 out of 33
2014: Caroline Kostner
Although she didn't win a medal, Italian figure skater Carolina Kostner looked stunning in a crystal-encrusted ombre dress for the Sochi Winter Olympics.
29 out of 33
2018: Alina Zagitova
Alina Zagitova was inspired by ballerinas when she wore an intricately embroidered red and gold tutu and red gloves for her gold medal at the Pyeongchang Olympics.
30 out of 33
2018: Adam Ripon
Male figure skater, Adam Rippon kept his pants simple and stole the show with his form-fitting sequin shirt while competing at the Pyeongchang Olympics.
Advertising – Continue Reading Below
This content is created and maintained by a third party, and uploaded to this page to help users provide their email addresses. You may be able to find more information about this and similar content on piano.io